Have you ever wanted to post a photo to Facebook from your mobile phone, but weren't sure if someone in that photo would mind their face going online? Did you take a great picture of your kid at the playground that you want to tweet out to the world, but caught some other kid in the shot, and are worried about their parent freaking out about online predators? Maybe you are worried about all the data that is being logged in your photos, like the exact GPS coordinates of where you took the picture, and don't know how to disable that feature. If any of these thoughts have ever crossed your mind, and you have an Android phone, then you should try out a new app my team at the Guardian Project just launched called ObscuraCam.
In short, the app integrates with your camera and gallery, to allow you to remove, pixelize or disguise faces of people in your photos, before you upload them to Facebook, Twitter or elsewhere. It also cleans out all the secret, hidden extra data that gets stored in your photos, like your GPS location, the make and model of the camera phone and sometimes even a unique serial number identifying your phone. While our original goal was to build an app that supported human rights activists in places like Iran and China, we really do think this app has broader relevance to everyday people (like YOU!) who want to have a bit more power of controlling what gets revealed, analyzed and indexed when they share their photos online.
Read the post on the Guardian Project blog, to get a more in-depth idea about what we've done, and where we are going with this project. This "v1" release is just for still photos, but we are quickly moving on to support video, as well as additional obscura filters too!
ObscuraCam is pretty powerful, in that it can automatically detect multiple faces in a photo, and then allow you to selectively choose how to filter those faces. You can also filter out t-shirts, signs, sensitive documents on a desk or just about anything you don't want a human or machine to be able to see.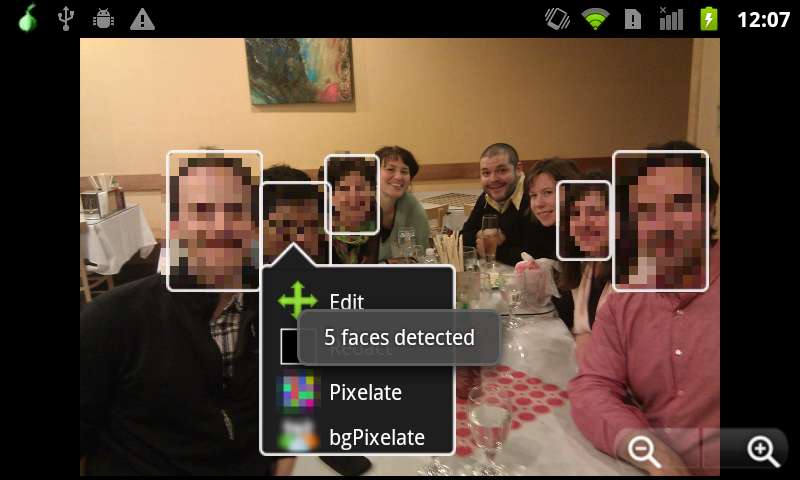 You can even have some fun putting on a silly disguise, which may still allow a human to recognize the person in the photo, but would most likely stop Facebook or Google's current recognition software from figuring out who you are.
So, please – try it out, have some fun, and post some pictures.
Just search for "Obscura" in the Android Market or install it directly from the web.